I think she got tired of me being around the house - Cutler´s wife swayed him to return with Dolphin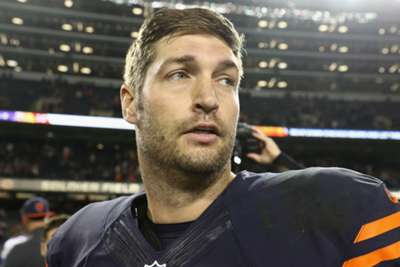 Jay Cutler revealed his wife was the driving force behind his decision to return to the NFL and sign with the Miami Dolphins.
With the Dolphins reportedly fearing the worst after starting quarterback Ryan Tannehill suffered a knee injury in practice last Thursday, Miami inked Cutler to a one-year deal reportedly worth $10million.
Cutler had seemingly brought his NFL career to a close and was due to spend the 2017 season in the broadcast booth with Fox Sports following the end of his tenure with the Chicago Bears.
But Cutler said wife Kristin Cavallari pushed him to link up with the Dolphins, telling a media conference: "The last four months I've been in a different mindset, getting ready for the Fox deal.
"I was pretty good with where I was in my life; I was around the kids a lot and felt pretty content. So I went back and forth on this.
"My wife talked me into it more than anybody else... I think she got tired of me being around the house."
The 34-year-old Cutler had season-ending shoulder injury in December but is confident he will have no difficulty getting back to his best throwing the ball.
"It'll come back pretty quickly,'' he said. "I'm not worried about the throwing part. Getting used to the guys and the more detailed stuff, that's what we're going to have to hit the fast-forward button on."
"The good thing is I play quarterback, so I don't really have to be in that great of cardiovascular shape," Cutler joked.
Cutler played in just five games for the Bears in 2016, throwing for 1059 yards, four touchdowns and five interceptions.
However, in 2015, when Miami head coach Adam Gase was Chicago's offensive coordinator, Cutler passed for 3659 yards with 21 touchdowns and 11 interceptions in 15 games.