Cowboys´ Ezekiel Elliott ´surprised and disappointed´ by NFL suspension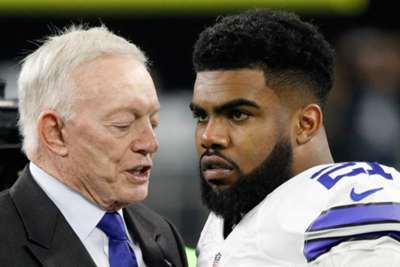 Dallas Cowboys' running back, Ezekiel Elliott, took to Twitter to voice his disapproval against a six-game suspension by the NFL.
It was rumoured in recent weeks that Elliott could receive a short suspension prior to the start of the season, after allegations he assaulted a former girfriend.
Despite never being charged over the 2016 incident, Elliott has received a six-game ban, found in breach of the league's Personal Conduct Policy.
The 22-year-old running back tweeted a statement Friday in response to the suspension, saying he was 'surprised and disappointed' by the decision.
"I recognize the distraction and disruption all of this has caused my family, friends, teammates, the Dallas Cowboys organization as well as my fans, for that I am sincerely sorry," the statement read. "I admit that I am far from perfect, but I plan to continue to work very hard, on and off the field, to mature and earn the opportunity that I have been given."
Elliott will be appealing the suspension and will have the full support of Cowboys owner Jerry Jones throughout the process. 
The former Ohio State Buckeye led the NFL in rushing last season with 1,631 yards in addition to 15 touchdowns. He accounted for more than 33 percent of the Cowboys' total yards in his rookie season.