Smith-Schuster, Iloka suspended one game in Steelers-Bengals aftermath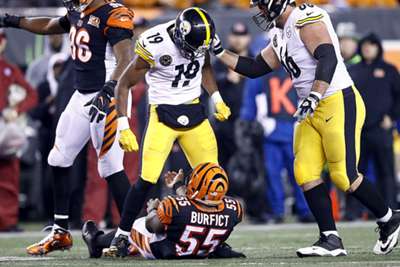 JuJu Smith-Schuster and George Iloka have been handed one-game suspensions following Monday's bruising encounter between the Pittsburgh Steelers and the Cincinnati Bengals.
Steelers wide receiver Smith-Schuster and Bengals safety Iloka have been banned for "violations of safety-related playing rules" during Pittsburgh's 23-20 comeback win in Cincinnati.
Smith-Schuster came under fire for his brutal hit on Bengals linebacker Vontaze Burfict in the fourth quarter that was deemed "dangerous and unsportsmanlike" by NFL vice-president of football operations Jon Runyan.
The 21-year-old was not ejected for the block that sent Burfict off the field on a cart but was penalised for unnecessary roughness and taunting as he stood over the injured Bengals man.
Later in the fourth quarter, Iloka "violently struck a defenseless receiver" when he slammed Steelers wideout Antonio Brown with a brutal helmet shot in the end zone. Brown held on for the tying touchdown and neither player was ejected.
It has been reported that Smith-Schuster will appeal the decision.