Harrison key to containing ´monster´ Fournette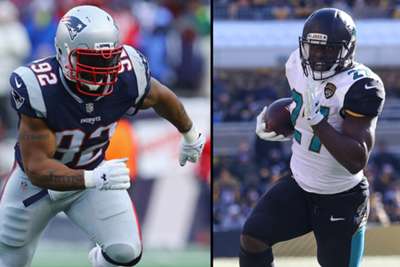 New England Patriots linebacker James Harrison is wary of the threat rookie Leonard Fournette will pose his team on Sunday.
There are two main things the Patriots have to worry about in the AFC Championship game against the Jacksonville Jaguars.
First, they have to deal with the Jaguars' ability to generate a pass rush without blitzing, and second, they must contain the running game led by Fournette.
Harrison has seen it all in his 15 years in the NFL and he is the last person to take the rookie lightly.
"It's another monster that we've got to try to contain," Harrison told reporters Friday, via ESPN.
While Jaguars quarterback Blake Bortles might not be as bad as many make him out to be, the true threat on the Jaguars' offense is Fournette. He has rushed for 1,040 yards and nine touchdowns during his rookie season, and has eclipsed 100 yards rushing six times including in the divisional round against the Pittsburgh Steelers.
While he is valuable as a veteran presence in the locker room, Harrison is more than just a mentor for younger players. Harrison is a valuable run-stuffer as he sets the edge well and gets stops by getting penetration from the outside.
Since coming over to New England, the former Steelers star has played in two games while participating on 57 of 126 snaps. In those two games the Patriots held the Jets to 40 rushing yards in week 17 and the Titans to 65 in the divisional round.
New England were allowing 119.7 rushing yards per game prior to the acquisition of Harrison. They are giving up 52.5 with him taking snaps. It is a small sample size, but it certainly looks like Harrison has had a positive effect. Add that to how he approaches every game with professionalism and the Patriots can only benefit.
"I approach every game the same, except now it's single elimination," he told reporters Friday.
"If you don't get everything done to an appropriate level now, you go home."