Panthers LB Davis reveals positive test, adding: My conscience is clear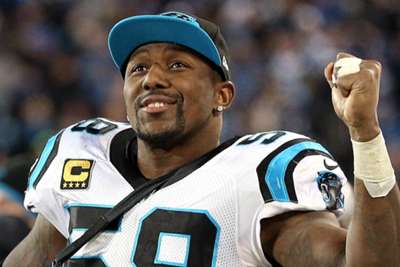 Thomas Davis, the Carolina Panthers Pro Bowl linebacker, will miss the start of the 2018 season after testing positive for a banned substance.
Davis himself announced the news via Twitter on Friday, saying he had tested positive for an estrogen blocker. However, the 35-year-old vehemently insisted there had been no intentional wrongdoing on his part.
Under NFL rules, Davis faces a four-game suspension. Davis said in his video post he will serve the ban and not appeal.
In text accompanying his Twitter video, Davis wrote: "This is by far one of the saddest days of my NFL career. I never thought that this would happen to me. I've worked extremely hard to do things the right way on and off the field. Panther Nation please know that I am not a cheater. #KeepPounding"
An emotional Davis said in his video: "I just want to take a few minutes today to share some news with you guys that I received from the NFL. I was informed that I tested positive for a banned substance.
"I was completely caught off-guard by this. I've never in any way done anything to try to intentionally cheat the game.
"It's one of those situations where the NFL rules are clear. They state that you are responsible as a player for what you put in your body. I've taken the same supplements for the last seven to eight years and never had any issues, been tested numerous times over the years while taking the same stuff. And unfortunately this is some of the things that happen when you take supplements.
"I've never tested positive for a steroid or HGH, it's not one of those situations. It ended up being an estrogen blocker that triggered a positive test for me. I just want you guys to know that in no way would I do anything to cheat this game or to try to create a competitive advantage over anybody.
"I've always tried to do things the right way and that's something that I will continue to do when I'm able to get back on the field. I can honestly tell you guys that my conscience is clear in this situation. And as bad as it hurts me to sit here and tell you guys this, I know it's going to hurt a lot of people that have looked up and believed in Thomas Davis over the years, just know that in no way, in no way have I done anything intentionally to try to cheat this game.
"I'm going to serve this four-game suspension and I'll be back ready to go, back out there with my team-mates. Who knows? Maybe this isn't my last year."
Davis, the Walter Payton Man of the Year Award winner in 2014, is one of the most respected players in the NFL. The veteran is best known for overcoming three ACL surgeries early in his career to return to the sport. He made his first Pro Bowl roster at age 32 and has made the game the past three years.