Cowboys release Dez Bryant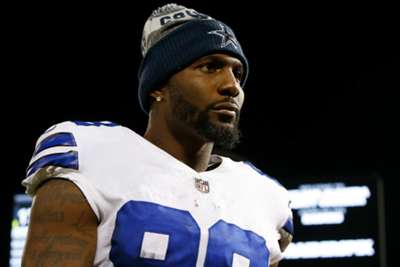 Dez Bryant has been released by the Dallas Cowboys, with the wide receiver quick to let fans know it was not his choice.
The decision was made on Friday, following Bryant's meeting with owner Jerry Jones.
Bryant has spent all eight seasons of his NFL career in Dallas after the Cowboys made him the 24th overall selection in the 2010 Draft.
Shortly before the official announcement was made, the 29-year-old posted on social media to bid farewell to the fans.
"Let's start the process #unbothered #ThrowUpTheX," he wrote, before adding: "Cowboy nation I need you to know this wasn't my decision.. I will always love y'all... forever Dallas in my heart. The love is real .. thank you."
Arguably the best receiver in the NFL from 2012 until 2014, when he averaged 1,312 yards and 14 touchdowns per season, injuries have diminished his effectiveness in recent years and prompted speculation he could be on his way out.
The Cowboys have already added free-agent receivers Allen Hurns and Deonte Thompson this offseason, while cutting ties with Bryant would create between $8.5million and $12.5m in salary cap space, depending on how the franchise designates the move.
"As an organisation we hold Dez Bryant in the highest regard, and we are grateful for his passion, spirit and contributions to this team for the past eight years," read a statement released by Jones. "He will always be a valued member of our family.
"Dez and I share a personal and professional relationship that is very strong, and he is one of just a handful of players with whom I have become that close to over the past 30 years.
"This was not an easy decision. It was made based upon doing what we believe is in the best interest of the Dallas Cowboys. We arrived at this crossroad collectively with input from several voices within the organisation. Ultimately we determined it was time to go in a new direction."