Eagles quarterback Wentz on course for Week 1 return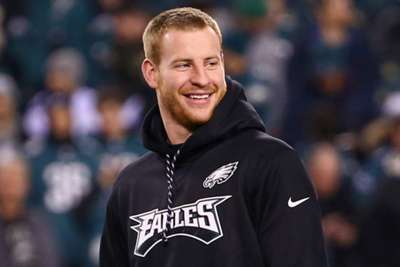 Philadelphia Eagles quarterback Carson Wentz still believes he will be ready for Week 1 of the 2018 season.
Wentz tore his anterior cruciate and lateral collateral ligaments in December and watched as backup Nick Foles led the Eagles to their first Super Bowl championship.
Despite Foles' heroics, and the fact he signed a new contract with Philadelphia in April, Wentz remains the unquestioned number one QB heading into 2018 – providing he can prove his fitness.
Wentz told NFL Network's "Good Morning Football" on Monday that rehab has been tough, but he is making progress.
"Rehab has been great. Obviously, it's not fun. It's quite the process. It can be painful some days," Wentz said.
"But so far everything is going well. Where I'm at I'm very confident. My goal is to be ready [for] Week 1.
"I'm very confident [about playing Week 1]. It's a fluid process, so you never know how it's going to go, but where we're at, just trying to do what the doctors say and just take it step by step.
"There are times when you feel great and want to push it more, but you've got to stay the course with what the doctors are saying. I feel really good and really confident for Week 1."
Wentz, 25, was enjoying a breakout season before his injury with almost 3,300 yards passing and 33 touchdown throws in 13 games.
The Eagles open the season at home against the Atlanta Falcons on September 6.