We´re not inviting the NBA champions - Trump responds to LeBron, Curry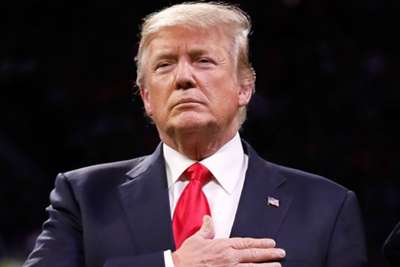 Donald Trump has responded to LeBron James and Stephen Curry stating they do not want to visit the White House by refusing to invite the NBA champions.
The United States president drew criticism from James and Curry, respectively of NBA finalists the Cleveland Cavaliers and Golden State Warriors, for cancelling a White House visit from NFL champions the Philadelphia Eagles.
Some members of the Eagles had not planned to attend, prompting Trump's withdrawal of the traditional invite for the Super Bowl winners.
There will now be no audience with the president for whoever wins the NBA title either.
"I didn't invite LeBron James and I didn't invite Stephen Curry. We're not going to invite either team, but we have other teams that are coming," Trump told reporters.
"My attitude [is that] if they want to be here, the greatest place on earth, I'll be here. If they don't want to be here, I don't want them."
Trump suggested the Washington Capitals, who won the Stanley Cup, will visit the White House. He said: "I think we'll have the Caps. We'll see."