Isn´t that worse than not standing? – Trump unhappy with NFL´s anthem rule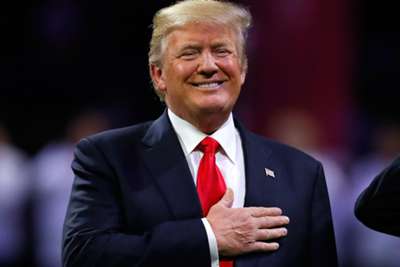 United States president Donald Trump is not a fan of the NFL's new national anthem rule.
In the rule, which was agreed upon by NFL owners in May, players can stay in the locker room during the anthem.
But if they decide to be on the field while it is played and opt to kneel, there will be fines administered.
"Isn't that worse than not standing?" Trump said at a rally in Montana on Thursday.
"That doesn't play. I actually think in many ways it's worse."
Several NFL players were not pleased with the rule themselves.
"What NFL owners did today was thwart the players' constitutional rights to express themselves and use our platform to draw attention to social injustices like racial inequality in our country," Philadelphia Eagles cornerback Malcolm Jenkins wrote on Twitter in May.
"Everyone loses when voices get stifled. While I disagree with this decision, I will not let it silence me or stop me from fighting.
"For me, this has never been about taking a knee, raising a fist or anyone's patriotism but doing what we can to effect real change for real people."