49ers to honour Clark with statues depicting ´The Catch´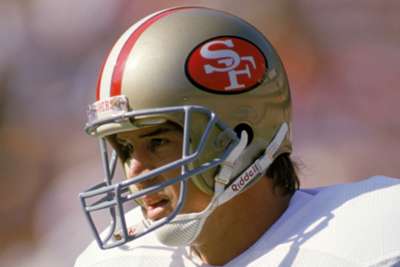 The San Francisco 49ers are to unveil a pair of statues depicting 'The Catch' outside Levi's Stadium as part of plans to honour late wide receiver Dwight Clark.
Clark died on June 5 at the age of 61 after a battle with amyotrophic lateral sclerosis. 
The Niners will play tribute to Clark, who won two Super Bowls during his time with San Francisco from 1979 to 1987, throughout the 2018 season.
All players will wear Clark's number 87 helmet decals throughout the season, while there are also big plans for the 49ers' nationally televised game against the Los Angeles Rams on October 21, which will see the statues of Joe Montana and Clark unveiled.
The statues will recreate 'The Catch' and extend 11 feet in the air. There will also be an "87" marked in the end zone during the game to commemorate the location of the famous play. 
"Dwight has meant so much to so many and it is only fitting that our organisation continues to carry on his wonderful legacy," 49ers CEO Jed York said in a statement. 
"The 2018 season provides us a tremendous opportunity to celebrate the life of a very special man, while also raising awareness for the Golden Heart Fund, which was so dear to his heart. Dwight lived his life with great compassion for others, and we want to honour that legacy by raising funds to support his 49ers brothers."
Last month, Clark's ashes were buried at former 49ers owner Eddie DeBartolo Jr's ranch in Montana next to the goal post from the Candlestick Park end zone where he made 'The Catch' memorable.
Clark's six-yard touchdown reception from quarterback Montana with 58 seconds left helped the Niners defeat the Dallas Cowboys in the NFC Championship game January 10, 1982.
The 49ers advanced to Super Bowl XVI and defeated the Bengals to win their first championship.
Clark caught 506 passes for 6,750 yards and 48 touchdowns during his career. His number 87 is retired by San Francisco.