NFL players protest during anthem, Kaepernick tweets support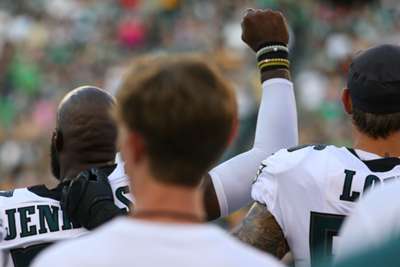 Kenny Stills and two-time Super Bowl winner Malcolm Jenkins were among the NFL players who protested during the national anthem on Thursday, as Colin Kaepernick tweeted his support.
The NFL has proposed, but not yet implemented, a controversial new anthem policy that requires all players to stand following kneeling demonstrations over social inequality in previous seasons, and Thursday's slate of pre-season fixtures saw protests resurface across some of the games.
Jenkins, playing for the first time since his Philadelphia Eagles side won the Super Bowl, raised his fist - an act that San Francisco 49ers wide-out Marquise Goodwin also made prior to his team's game - while Dolphins receivers Stills and Albert Wilson both took a knee during the anthem.
Kaepernick, who was involved when the protests first emerged two years ago and has been out of the league since the 2016 season, praised Stills and Wilson in a tweet that read: "My brother @kstills continued his protest of systemic oppression tonight by taking a knee. Albert Wilson @iThinkIsee12 joined him in protest. Stay strong brothers!"
Speaking to reporters after the Eagles' game against the Pittsburgh Steelers, Jenkins said: "I just think it's important to keep this conversation going, that we don't let it get stagnant.
"You know, as we understand it, everybody's kind of waiting to see what the league is going to do. It's just my personal decision to keep these things at the forefront."
The NFL released a statement reiterating it remains in conversation with the players' union over the protests.
The statement read: "The NFL has been engaged in constructive discussions with the NFL Players Association regarding the anthem and issues of equality and social justice that are of concern to many Americans.
"While those discussions continue, the NFL has agreed to delay implementing or enforcing any club work rules that could result in players being disciplined for their conduct during the performance of the anthem. 
"Meanwhile, there has been no change in the NFL's policy regarding the national anthem. The anthem will continue to be played before every game, and all player and non-player personnel on the field at that time are expected to stand during the presentation of the flag and performance of the anthem. Personnel who do not wish to do so can choose to remain in the locker room.
"We remain committed to working with the players to identify solutions and to continue making progress on important social issues affecting our communities."
On Friday, United States president Donald Trump responded to the latest protests on Twitter by expressing his disapproval and suggesting those kneeling "find another way to protest" or "be suspended without pay".
Trump said: "The NFL players are at it again - taking a knee when they should be standing proudly for the National Anthem. Numerous players, from different teams, wanted to show their 'outrage' at something that most of them are unable to define. They make a fortune doing what they love......
".....Be happy, be cool! A football game, that fans are paying soooo much money to watch and enjoy, is no place to protest. Most of that money goes to the players anyway. Find another way to protest. Stand proudly for your National Anthem or be Suspended Without Pay!"