Mahomes: Chiefs need to win like Brady and the Patriots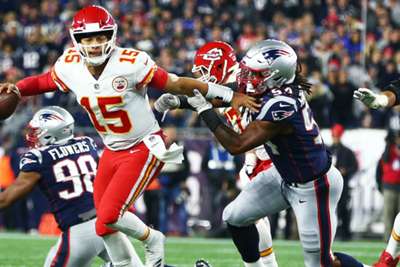 Patrick Mahomes has told the Kansas City Chiefs to learn from their first defeat of the season to the New England Patriots after Tom Brady provided another clutch performance.
A thriller at Gillette Stadium saw the Pats come out on top 43-40, with Brady completing 24 of 35 passes for 340 yards and a touchdown in his 200th regular-season NFL win.
The 41-year-old was particularly decisive in the fourth quarter as he drove New England forward and his class told against Mahomes, the second-year quarterback who has enjoyed a stunning start to the year with the Chiefs.
And Mahomes wants Kansas City to be more like the Pats, believing the sort of gripping last-ditch wins they secured on Sunday to be the next step for his side.
"I have the ultimate respect for Tom and everything that he did this game and his whole entire career," Mahomes said. "He's had success in this league because he's won games with last-minute drives like that.
"For us, you just have to find a way to win games like this. If you want to get to where you want to get to, you have to win games that are going to be tight - and they're going to be against really good opponents."
Mahomes now hopes he might have the opportunity to take on Brady again later this year in the play-offs.
"I just told him good luck for the rest of the season," he said. "We're going to go out there and hopefully we can keep playing and hopefully we might get to see him again."