Eddie Lacy signs one-year deal with Seahawks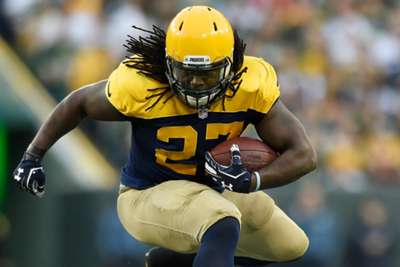 Eddie Lacy has a new home after signing a one-year deal with the Seattle Seahawks.
The All-Pro running back's move to Seattle from the Green Bay Packers was announced by his agents at SportsTrust Advisors on Tuesday.
Reports indicated Lacy's deal with the Seahawks is potentially worth $5.55 million with $3m fully guaranteed.
The signing comes one day after former Minnesota Vikings running back Adrian Peterson visited Seattle without being offered a contract. The team is also scheduled to host former Kansas City Chiefs running back Jamaal Charles this week, but Oakland Raiders free agent back Latavius Murray will reportedly no longer visit after the Lacy signing.
Lacy was working toward a comeback season and averaging 5.1 yards per carry in the first five games of 2016 before a left ankle injury suffered in October derailed his resurgence.
The Packers put him on injured reserve and he underwent surgery to repair the damage.