Aaron Hernandez suicide: Judge erases murder conviction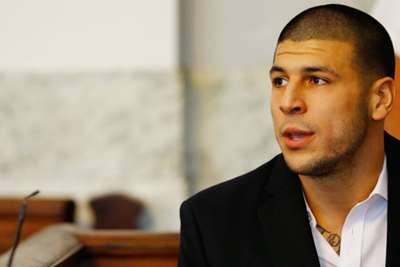 A judge in Massachusetts on Tuesday vacated Aaron Hernandez's conviction in the 2013 murder of Odin Lloyd, following the state's legal precedent that erases convictions if a defendant dies before all appeal possibilities are exhausted.
Former NFL player Hernandez was found hanged last month in the prison where he was serving a life sentence for the crime.
Hernandez, a tight end for the New England Patriots, received a life sentence two years ago after being found guilty of the murder.
He had been acquitted in a separate murder case a week prior to his death.
"The longstanding rule is... abating the entire prosecution as if it never happened," Superior Court Judge E. Susan Garsh said in quotes reported by WBZ-TV. "This court is compelled to follow binding precedent."
The Bristol (Mass.) district attorney's office had reportedly urged Garsh to uphold the conviction because he made the deliberate choice to commit suicide while the case was under appeal.
However, Hernandez's appellate attorneys filed paperwork on Tuesday asking the judge to ignore how he died.
"The fact of Hernandez's death is not in dispute, and the purported manner of death and description of how the injury occurred are both irrelevant to any issue... that this Court must decide,'' Hernandez's attorneys, John M Thompson and Linda J Thompson, wrote in papers filed Tuesday, reported in the Boston Globe.
District attorney Thomas M Quinn III's office last week released Hernandez's suicide note to long-time fiance Shayanna Jenkins-Hernandez, which closed with the comment: "You're Rich."
That led to speculation that Hernandez realised his death while his conviction was under appeal could lead to his estate receiving a windfall payment owed if he is legally declared an innocent man.
According to reports, Garsh's ruling in the case reportedly means as much as $6million could be owed to Hernandez's estate, currently worth zero dollars.
Prosecutors are expected to appeal the decision.