Stafford admits ankle is ´not 100 percent´ after Lions´ loss to Vikings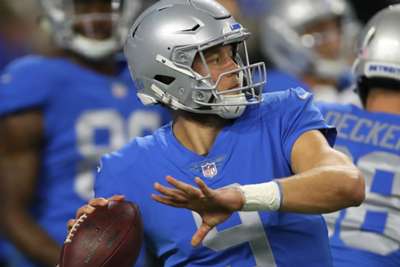 Matthew Stafford remained in the Detroit Lions' Thanksgiving Day loss to the Minnesota Vikings after hurting his ankle, but he is feeling the repercussions.
The Detroit quarterback was hobbled in the fourth quarter, when Vikings defensive tackle Tom Johnson rolled up on his right leg.
Stafford, 29, remained down after the play and was checked out by medical staff, but eventually returned to the game, which his side lost 30-23.
Afterwards, Stafford declined to say how severe his injury was, but he was limping considerably and did admit the ankle was not completely fine.
"Not 100 percent," Stafford said, via the team's website. "But ticker's still ticking, so we'll be all right."
Lions coach Jim Caldwell also declined to talk about Stafford's ankle, only saying, "We'll see" when asked about it.
On the bright side, Stafford had 10 days before the Lions (6-5) play again on December 3 against the Baltimore Ravens.