Brees leapfrogs Favre on all-time list for touchdown passes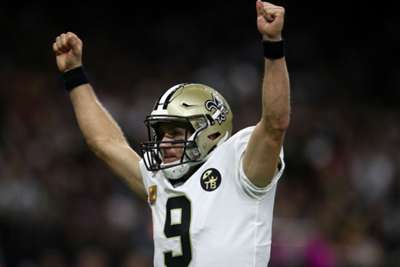 Drew Brees moved into second place on the list for passing touchdowns as he helped the New Orleans Saints dismantle the Cincinnati Bengals on Sunday.
The Saints quarterback surpassed Brett Favre after throwing for three first-half scores in his team's 51-14 win, taking his career tally to 509.
Brees threw two touchdowns to wide receiver Michael Thomas, with a 28-yard strike to running back Mark Ingram sandwiched in between.
The 39-year-old also scored himself, diving in from a yard out in the third quarter as in-form New Orleans registered an eighth successive victory.
Peyton Manning - who managed 539 touchdown passes in his illustrious career - is the all-time leader.
Brees surpassed Manning's previous record of 71,940 yards in a Week 5 victory over the Washington Redskins, having already exceeded Favre's mark of 6,300 career completions.
He became the NFL's all-time passing leader in Week 5, surpassing Peyton Manning's previous record of 71,940 yards with a 62-yard touchdown pass to Tre'Quan Smith against the Redskins.