Browns´ Chubb relishes record-breaking performance: It definitely is very special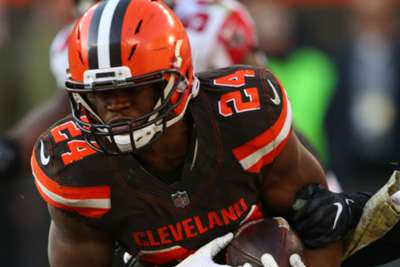 Cleveland Browns rookie Nick Chubb set a franchise record with a 92-yard touchdown run and finished with 176 rushing yards and two touchdowns in a 28-16 win over the Atlanta Falcons. 
The third-quarter 92-yarder gave Cleveland a comfortable lead, but the running back was just happy he was able to get more carries (20).
"It is always great to win no matter what it takes," Chubb said, via the team's website. "I am willing to do anything they ask me to do and I was. Not getting many carries, I still took advantage of the ones I got just to help this team anyway I could. That is still [the same].
"Now, I am getting more carries, and I am going to make the most out of all of them."
He certainly did that on Sunday. 
Chubb's increase in touches is in part due to Carlos Hyde getting traded to the Jacksonville Jaguars.
But, he showed he can handle the responsibilities just fine. He has 78 carries for 406 yards and four touchdowns in the Browns' last four games.
His breakout performance, highlighted by his history-making TD run, should cement a permanent spot for him in the backfield.
"It definitely is very special just being in this place with so much history and so many great running backs and to be a part of it breaking records, it is a great feeling," he said.