NFL commissioner Goodell hopes to get player protests to ´zero´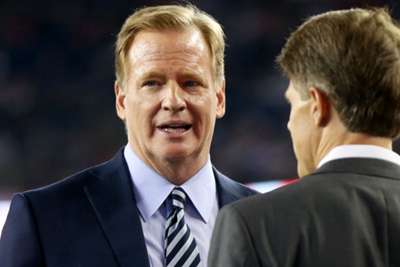 NFL commissioner Roger Goodell has expressed hope that player protests can be eliminated through better understanding.
Goodell, league officials and a group of owners met with a group of players and union leaders on Tuesday, and owners continued the discussions among themselves on Wednesday. Goodell said owners did not discuss the possibility of individual teams disciplining players for refusing to stand at attention during anthem because "it wasn't necessary."
Nearly all of Goodell's 15-minute news conference following the conclusion of owners' meetings in New York focused on the anthem issue, and the commissioner held to the same basic line throughout the session: The NFL believes players "should stand for the national anthem," but it will not make them.
"We have about a half a dozen players that are protesting," Goodell said. 
"We hope and we're going to continue to work to try to put that at zero. That's what we'd like to do. But we want to make sure that we're understanding what the players are talking about, and that's complex.
"We had a real focus on making sure that all of our teams understood the kind of dialogue that took place, the kind of things they were interested in getting support for.
"There was complete support for the NFL, each club, supporting their players, and continuing the dialogue that they've had on the club level.
"I would tell you there's unprecedented conversations and dialogue going on between our players, between our owners, between our club officials, between the league, and that is a really positive change for us that we think ultimately is going to pay dividends."
Goodell understands many fans and sponsors are upset about the protests but emphasised that the league is committed to focusing its energy on joining with the players to address the societal issues that prompted their actions.
"I understand what our fans feel about this issue and we feel the same way about the importance of our flag, about the importance of patriotism, and I believe our players feel that way," Goodell said. 
"They will state to you and they have stated to everyone publicly, they are not doing this in any way to be disrespectful to the flag, but they also understand how it's being interpreted. That's why we're trying to deal with those underlying issues."
Goodell said he has had no discussions about the topic with President Donald Trump, who has frequently used his Twitter account to attack both the protesting players and Goodell and the NFL for failing to "stop" them.
"What we're trying to do is stay out of politics," Goodell said. "We're not looking to get into politics. What we're looking to do is continue to get people focused on football."