​Colts QB Luck suffers setback in recovery from shoulder injury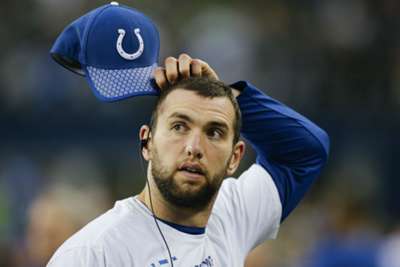 Indianapolis Colts quarterback Andrew Luck will not practice this week as he is experiencing soreness in his throwing shoulder.
Luck has not played since January after undergoing surgery on a torn labrum but was finally cleared to practice two weeks ago.
But he appears to have suffered a setback and his long road to recovery will not end when the Colts face the Jacksonville Jaguars on Sunday.
Colts GM Chris Ballard, though, insists Luck's rehab is going well and that soreness is to be expected.
"It's natural that there's going to be some pain and soreness when you're rehabbing an injury," Ballard said. "We're going to try and shut him down and calm it down right now."
There is still no timetable for Luck's return, meaning Jacoby Brissett will continue to call the signals for the Colts.
Scott Tolzien endured a dreadful showing under center in the season opener with the Los Angeles Rams, which the Colts lost 46-9, with Brissett then taking over and winning in two of his five starts since being acquired in a trade with the New England Patriots.