Marshall, Baldwin react strongly to Trump´s comments on NFL anthem stance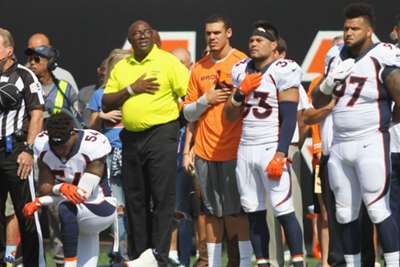 Denver Broncos linebacker Brandon Marshall and Seattle Seahawks wide receiver Doug Baldwin did not hold back in response to Donald Trump's comments on the NFL's new anthem stance.
The league announced on Wednesday it will allow players to remain in the locker room while the anthem plays. However, teams will be fined if players and other personnel on the field "do not stand and show respect for the flag and the anthem".
Shortly after the NFL announced changes to its national anthem policy, United States president Trump gave praise to the league while taking another jab at those who choose to protest, and it did not take long for some players to react to his comments. 
"You have to stand proudly for the national anthem or you shouldn't be playing, you shouldn't be there, maybe you shouldn't be in the country. The NFL owners did the right thing," Trump said on Thursday in an interview on Fox & Friends.
Marshall, who was one of the first players to take a knee after Colin Kaepernick did in 2016, called Trump's comments "disgusting", adding he does not think the NFL's rule change will be a real solution.
"I say disgusting because of our First Amendment rights. We have freedom of speech, freedom to protest. So if somebody protests something, now we get someone kicked out of the country? That's not how things should work in my opinion," Marshall said, via The Denver Channel.
"We are supposed to have a conversation about things, talk about things, work things through. Everybody is not going to agree. Everybody is not going to have the same opinion. Just because somebody has an issue with something going on in this country they should pack up and leave? That's absurd."
Baldwin also had some strong words in response to Trump, calling the president an "idiot". He added: "The NFL really missed it this time."
"He's an idiot, plain and simple," Baldwin said, per The Seattle Times. "I mean, listen, I respect the man because he's a human being first and foremost. But he's just being more divisive, which is not surprising. It is what it is. But for him to say that anybody who doesn't follow his viewpoints or his constituents' viewpoints should be kicked out of the country. It's not very empathetic, it's not very American-like."