Browns name Baker Mayfield starting QB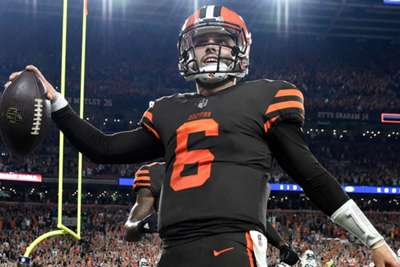 The Cleveland Browns are ready to usher in the Baker Mayfield era.
In an anticipated move, Browns coach Hue Jackson named the rookie as the team's starting quarterback during an announcement on Monday.
"I informed the group this morning that we're going to start Baker Mayfield and Tyrod [Taylor] will be the backup if healthy," Jackson said.
Mayfield, the number overall pick in April's draft, came off the bench in Thursday's encounter with the New York Jets after Taylor left the game with a concussion just before half time and led the Browns to their first victory in 635 days dating back to the 2016 season.
He entered with the Browns trailing 14-3 and went 17-of-23 passing for 201 yards as he helped Cleveland secure a 21-17 comeback victory. He also caught a two-point conversion pass, which tied the score at 14-14.
Despite his setback, Taylor is expected to clear the concussion protocol this week.
The Browns, 1-1-1 with a .500 record for the first time since 2014, will look to keep their momentum going when they visit the Oakland Raiders on Sunday.