Rams v Chiefs moved to LA due to Mexico City field conditions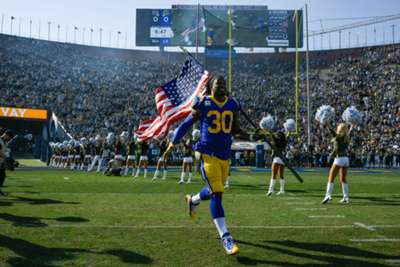 The NFL will not play in Mexico in 2018 after all.
In the wake of concerns regarding the state of the playing surface at Estadio Azteca in Mexico City, the NFL has moved Monday night's clash between the Los Angeles Rams and the Kansas City Chiefs to the LA Memorial Coliseum.
A Shakira concert in October was reportedly the cause of "significant damage" to the grass and, despite the league stating earlier on Tuesday that they were determined not to move the game, the clash between the two 9-1 teams has been relocated.
Several players were said to be considering their participation in the game if it was played at Azteca.
"We have worked extensively with our partners at Estadio Azteca for months in preparation for this game," NFL executive vice president of international Mark Waller said in a statement.
"Until very recently, we had no major concerns. But the combination of a difficult rainy season and a heavy multi-event calendar of events at the stadium have resulted in significant damage to the field that presents unnecessary risks to player safety and makes it unsuitable to host an NFL game.
"As a result, we have determined that moving the game is the right decision and one that we needed to announce now in order to allow our teams and fans to make alternate arrangements."