Ramsey reiterates he wants to stay with Jaguars despite cryptic tweet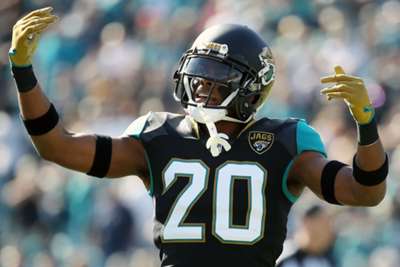 Jalen Ramsey reinforced his commitment to the Jacksonville Jaguars on Thursday, days after sending a cryptic tweet that caused many to question his intentions. 
A day after the Jags fell to 3-6 by losing to the Indianapolis Colts 29-26, Ramsey tweeted: "When I'm gone from here, y'all gone miss me. I ain't even trippin lol."
The 24-year-old cornerback has one year remaining on his rookie contract, and the Jaguars could keep him through 2020 on the deal's fifth-year option. If given the opportunity, Ramsey says he is hopeful he can stay with Jacksonville.
"I've said multiple times, over and over and over and over and over and over and over again that I want to play for one team my whole career," he told reporters. "I don't control that, but, I mean, it is what it is.
"If they wanted, they could extend me. and if it's right, then we'll get that done and I'll be here for a number of years. If not, I have a fifth-year option they can pick up and they can franchise me. I mean, I could be here for a while."
Ramsey also addressed the tweet, saying it was for the Jaguars' "fake fans" who have not stuck with the team through a disappointing 2018 season.
"If that's what people want to do or if that's how people feel, then it's certain people, like y'all going to miss...we bring some good things," Ramsey said.
"And, yeah, we slipped up here recently. Not executed and played like we know we can. But, like whoever, the fake fans, if y'all [the media], whoever, if y'all want to jump ship, then, look, it is what it is.
"But y'all going to miss us when we either gone or when stuff back popping. We don't want y'all no more."
The Jaguars went 10-6 and won the AFC South last season, but they have lost five consecutive games after starting the season 3-1.
They are currently at the bottom of the AFC South, three games behind the division-leading Houston Texans, with the AFC North-leading Pittsburgh Steelers coming to Jacksonville on Sunday.