Where does Chiefs-Rams classic rank among NFL´s highest-scoring matches?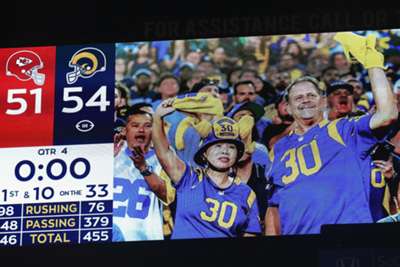 The Los Angeles Rams took their 2018 record to 10-1 in a thrilling clash with the Kansas City Chiefs on Monday, winning 54-51.
That result, which featured 14 touchdowns and 1,001 combined yards, represented the first time in NFL history a team had scored 50 points in a match and lost.
But where does the record-breaking encounter rank among football's other high-scoring clashes?
Here we take a look at the top five.
1. New York Giants v Washington Redskins, 1966 - 113 points
The Redskins scored 10 touchdowns on their way to a 72-41 victory in this match, while the Giants managed an impressive six in defeat. According to newspaper reports, 13 footballs were lost to the crowd from conversion attempts during the contest, which occurred before the days of nets behind the posts, while Brig Owens threw another into the stands after returning a fumble 62 yards for a touchdown.
2. Cincinnati Bengals v Cleveland Browns, 2004 - 106 points
Bengals quarterback Carson Palmer threw for four touchdowns and Rudi Johnson recorded a career-high 202 rushing yards as he ran for two more in a 58-48 victory over the Browns. Kelly Holcomb was unfortunate to be on the losing side after throwing for five touchdowns.
3. Kansas City Chiefs v Los Angeles Rams, 2018 - 105 points
Monday's match moves to third on the all-time list of high-scoring matches in the NFL. Prior to this week, teams scoring 50 points or more were 216-0. Rams coach Sean McVay said after the match: "It was fun. I don't know if I would say it was fun from a defensive standpoint but there was a lot of good football."
4. Oakland Raiders v Houston Oilers, 1963 - 101 points
In a game played before the NFL-AFL merger, the Raiders edged the Oilers 52-49, the match coming agonisingly close to achieving the feat of both teams reaching 50 points 55 years before the Rams and the Chiefs finally broke that record. Oakland placekicker Mike Mercer won the match with a field goal less than five minutes from the end of the final quarter.
5. New York Giants v New Orleans Saints, 2015 - 101 points
This was the highest-scoring match of the decade until Sunday and matched the scoreline of that Raiders-Oilers clash, with the Saints winning 52-49. The match was also notable for the fact Drew Brees threw a record-equalling seven touchdown passes. The Giants' Eli Manning threw for six in return.