Cowboys top Eagles in OT behind stellar Cooper display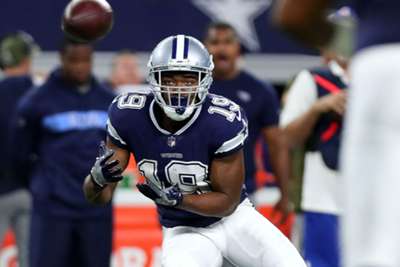 The Dallas Cowboys took a big step toward the NFC East title with an entertaining 29-23 overtime win against rivals the Philadelphia Eagles.
Dallas and Philadelphia battled for top spot in the division on Sunday and the Cowboys emerged triumphant over the Super Bowl champions thanks to receiver Amari Cooper.
Cooper recorded 10 receptions for 217 yards and three touchdowns in a stellar performance in Arlington.
With the victory, the Cowboys – who have won their last five games – improved to 8-5 and claimed sole ownership of the lead in the NFC East, two games ahead of the Eagles (6-7).
Two of Cooper's three touchdown catches came in the fourth quarter. He torched Eagles cornerback Sidney Jones on this fly route down the right sideline to help Dallas take a 16-9 lead.
However, Philadelphia would not go down without a fight. The Eagles surged down the field and knotted the game at 16 after quarterback Carson Wentz completed a touchdown pass to Dallas Goedert with three minutes left in the final quarter.
The Cowboys did not have to be very creative to find success in the passing game as Cooper burned yet another Eagles cornerback for his second touchdown of the day, giving Dallas the lead once again.
Philadelphia battled back with an effective two-minute drill, which was capped off by a Darren Sproles touchdown catch.
The Cowboys had a chance to defeat the Eagles with a game-winning field goal, but a bad snap moved them out of their kicker's range. 
Dallas received the first possession in overtime and they ran nearly nine minutes off the clock. Cooper then caught a tipped pass and ran to the house for his third and final touchdown of the day to secure the victory.
Cowboys QB Dak Prescott completed 42 of his 54 passing attempts for 455 yards and three touchdowns. Ezekiel Elliott added 114 yards on the ground. Wentz tallied 228 passing yards and three touchdowns in the losing effort.