Luck ´sort of happy´ with sack from Suggs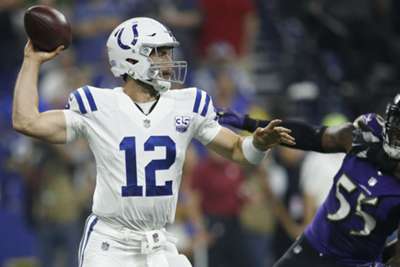 Indianapolis Colts quarterback Andrew Luck was "sort of happy" to come away from getting sacked by Terrell Suggs without shoulder damage.
Luck sat out the whole of the previous campaign with a shoulder injury and a blindside hit in the second quarter of the 20-19 preseason defeat to the Baltimore Ravens courtesy of Suggs sucked the air out of Lucas Oil Stadium for a few brief moments.
But the 28-year-old popped straight back up off the turf, congratulated the Ravens outside linebacker on the hit and was pleased to come away unscathed.
He said: "I told someone after the game, 'I'm sort of happy to get sacked by Suggs, a legit sack.'
"I landed on my right elbow, sort of reminiscent of how I injured my shoulder a couple of years ago.
"I didn't feel anything, didn't even give it a second thought. I think maybe that's actually a big deal for me, to sort of lose that thought bubble if you will."
Luck went six of 13 with 50 passing yards and one interception. The first-team offense netted only 44 yards, but the quarterback said he was "very encouraged" and added: "I feel great."
The Colts continue their preseason against the San Francisco 49ers on Saturday.